"We can't change other people. Certainly we have made others feel guilty enough so that they have given in and done things our way. And we have won many power struggles. But ultimately we can't claim ownership of anyone else's mind, and we aren't the stewards of anyone else's life. We may feel diminished by our lack of control initially, but in time we will love the freedom of living only our own lives. The extra time we'll have and the peace we'll know will comfort us."
–Karen Casey
Sneak Peek at a Fancy Horse
Remember the horse rolling around on his back? You can see it
here
. I started something really different with this horse. It may take me a long time to finish it. Oh… the pencil lines? I forgot to take a progress picture of this after I erased those.
The plain brown horse is from a photo reference by SkattyKat at WetCanvas.
Karen Casey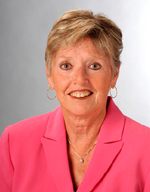 Millions of people around the world spend a few moments in quiet reflection with Karen Casey every day. Karen is the best-selling author of
Each Day a New Beginning
, the first daily meditation book written expressly for women in recovery from addiction. Published in 1981,
Each Day a New Beginning
has sold more than three million copies and has been translated into ten different languages. Over the years, readers around the world have come to regard Karen as a trusted companion on the recovery journey. Among her other best-selling inspirational books are
Keepers of the Wisdom, A Woman's Spirit, Fearless Relationships
, and
A Life of My Own
. In her newest book, Serenity (Hazelden, 2007), Karen shares favorite passages that gently convey simple lessons for living with greater peace, hope, and trust. Karen enjoys golfing and riding her Harley with her husband. She lives in Minneapolis, Minnesota, and Naples, Florida. See Karen's website
here
.